The 2017 Sustainability Report has 4 sections – Overview, Part 1, Part 2 and Appendix. The Overview covers the information about Genting Berhad and the strategic message from its President and Chief Operating Officer. Part 1 covers the sustainability approach taken to review and update the 5 Sustainability Pillars identified in 2016 for Genting Berhad and its principal wholly owned unlisted subsidiary, Genting Energy and where applicable, the Genting Group. The management approach on the updated sustainability pillars and their material topics is also disclosed in Part 1 of this Report.
Following an internal materiality assessment, the fifth sustainability pillar was updated to "community care" instead of "stakeholder engagement and development" with corporate social responsibility as the material sustainability topic of this pillar. The material topics within the 5 Pillars were also assessed and updated to produce a more balanced report with improved clarity. The 5 Sustainability Pillars, updated in 2017, support the overall sustainability direction for Genting Berhad and Genting Energy, with common core values and sustainability principles that transcend across the Genting Group.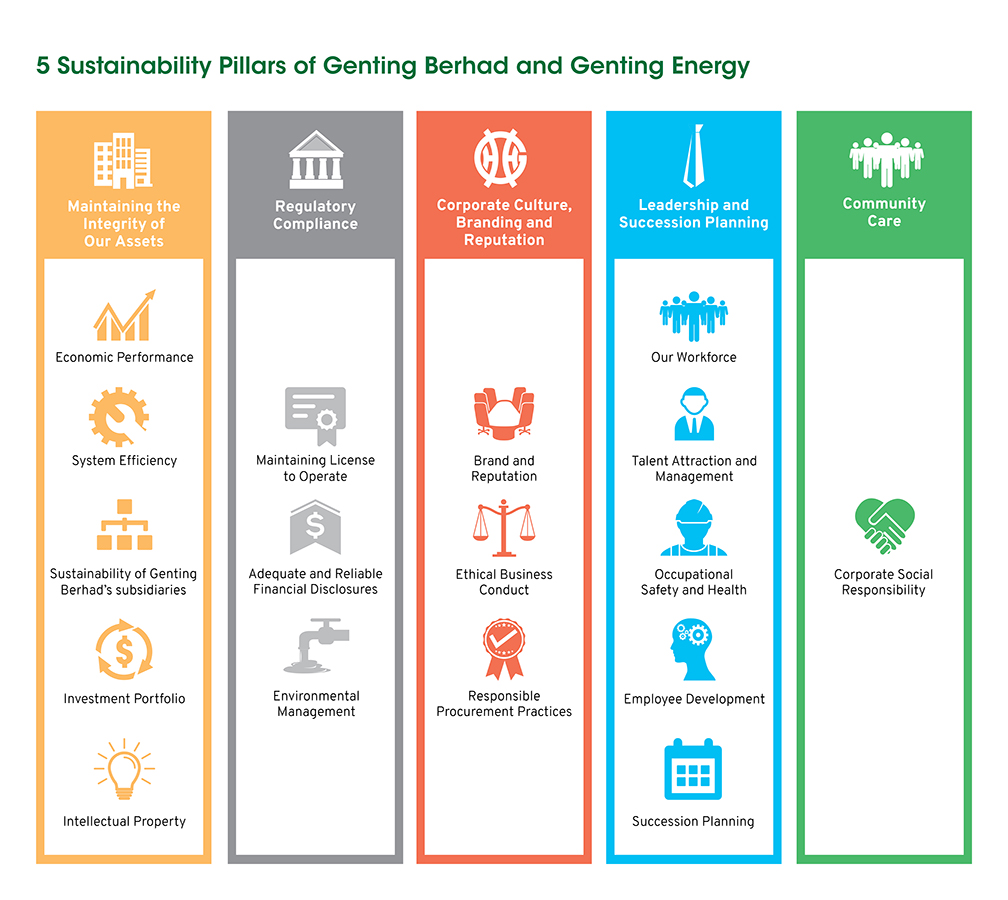 Part 2 covers the summary sustainability reports of Genting Berhad's listed subsidiaries, namely Genting Singapore Limited (formerly known as Genting Singapore PLC), Genting Malaysia Berhad and Genting Plantations Berhad. Each listed subsidiary has produced a detailed 2017 sustainability report that provides more information on their sustainability performances. These reports can be found on their respective corporate websites. The Appendix section is on GRI Content Index, which covers the referencing of this Report to GRI Standards 2016: Core option.
As part of our digitisation efforts, the 2017 Sustainability Report is available online and can be downloaded below: