Genting Berhad recognises the importance of developing its business globally in a sustainable and responsible manner. As a responsible corporation with diverse business investments, our mission is to ensure high standards of governance across Genting's entire operations, promote responsible business practices within the organisation, manage the environmental impact of our businesses, provide a safe and caring workplace for our employees and meet the social needs of the community and nation for the betterment of all. These values of sustainability and corporate responsibility have always been embedded in Genting's business ethics, core values and work practices and they reflect Genting's continuous pursuit to enhance best corporate values.
As an equal opportunity employer that embraces diversity in the workplace, we strive to maintain an inclusive work culture that supports diverse talent to contribute positively to the growth and productivity in line with Genting's vision and mission.
The 5 Sustainability Pillars support the overall sustainability direction for Genting Berhad. As a global conglomerate with operations in diverse industry sectors, we are mindful of the topics that matter most to our stakeholders. Our focal areas thus vary across our businesses, with each key subsidiary, namely Genting Energy, Genting Malaysia, Genting Singapore and Genting Plantations focusing on the sustainability themes applicable to their respective operations.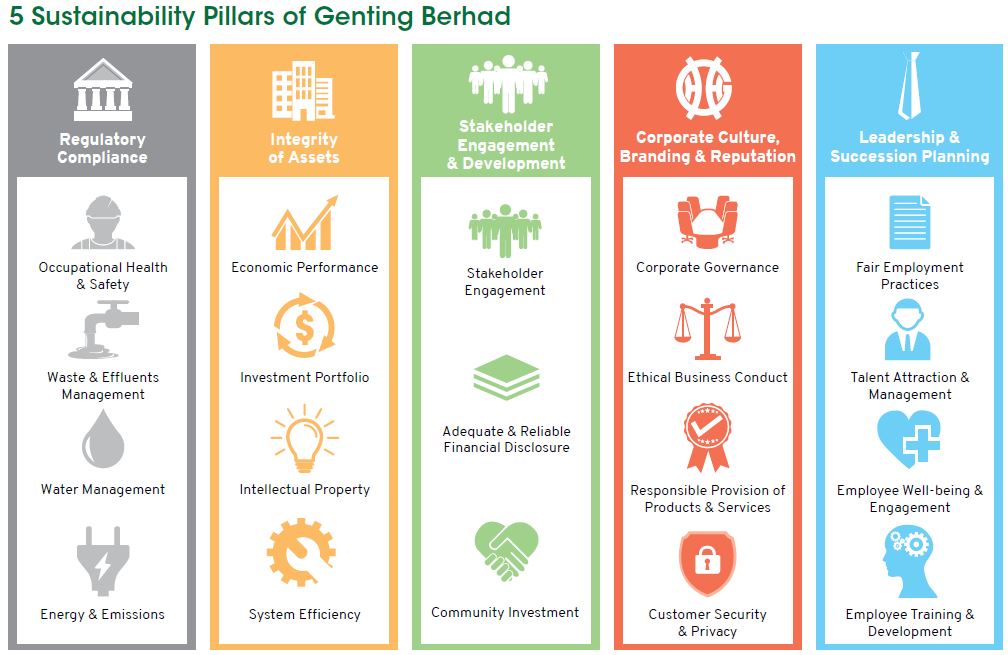 While our sustainability activities have always been reported in the previous annual reports, this year, the 2016 Sustainability Report is the first annual sustainability report of Genting Berhad to contain standard disclosures from the GRI Sustainability Reporting Guidelines. The sustainability activities of each key subsidiary are summarised in this report.
As part of our digitisation efforts, the 2016 Sustainability Report is available online and can be downloaded here: