At Genting Berhad, we recognise that reporting on a conglomerate basis for the investment holding company can be challenging, especially to ensure coherency across the diverse businesses of the Group and to report on sustainability topics that matter most to our stakeholders. Genting Berhad's principal subsidiaries, namely Genting Singapore, Genting Malaysia, Genting Plantations, Genting Energy and Resorts World Las Vegas each have distinct sustainability themes applicable to their respective operations. The 2020 Sustainability Report is structured to cover Genting Berhad and its unlisted subsidiaries under Part 1 and its listed subsidiaries under Part 2.
Our Sustainability Policy recognises the importance of managing the Group's global business investments in a sustainable and responsible manner. As a responsible corporation with diverse business investments, Genting Berhad strives to ensure high standards of governance across its entire operations, promote responsible business practices, manage the environmental impact including climate-related risks or opportunities on its businesses, provide a safe and caring workplace and meet the social needs of the community and nation.
The Genting Core Values, namely Hard Work, Honesty, Harmony, Loyalty and Compassion have always been embedded in our work culture and business practices. These values form the underlying work principles for our employees to practise professionalism and strong work ethics at all times. These core values reflect our continuous pursuit to enhance the corporate values of the Genting Group.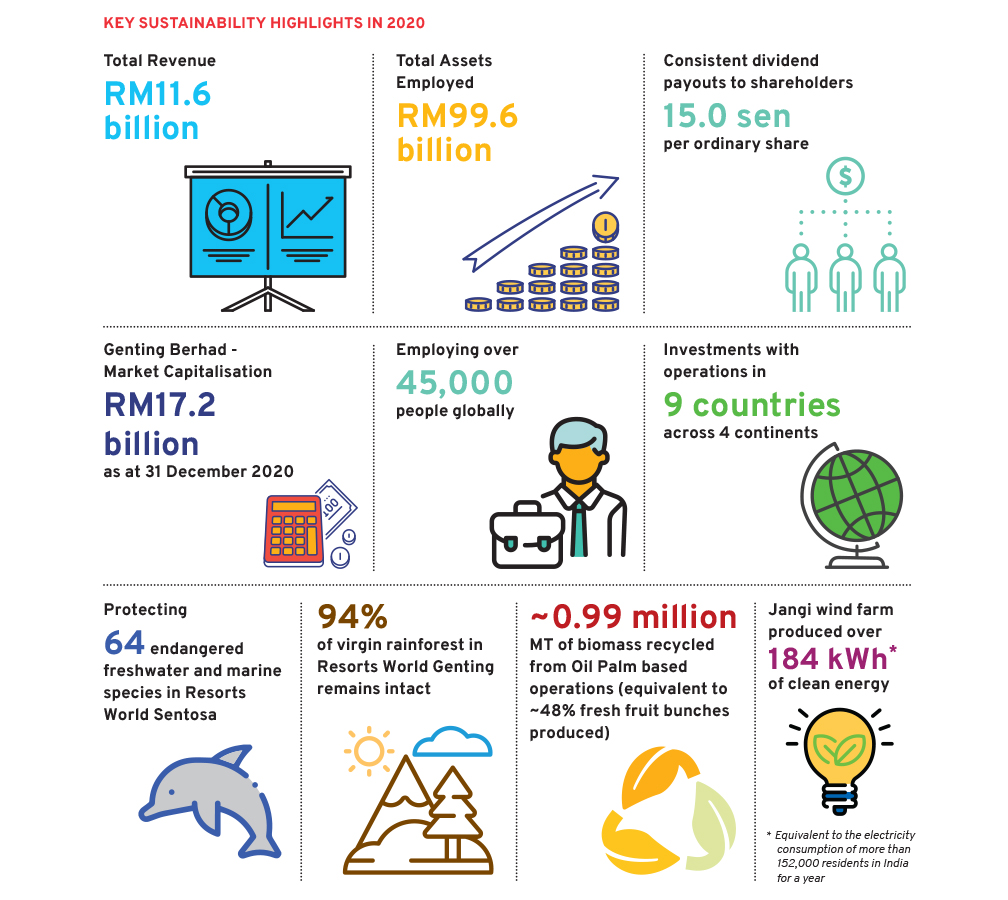 We strive to meet the ongoing changes in guidelines and standards of local and international sustainability disclosures including their Greenhouse Gas Emission reduction targets. We continue to work closely with our partners, associates and other stakeholders to achieve the best for the Genting Group and contribute towards the betterment of our community.
As an equal opportunity employer that embraces diversity in the workplace, we have an inclusive work culture that supports diverse talent to contribute positively to the growth and productivity, in line with the Genting Group's vision and mission.
A materiality assessment has been carried out every year since the start of stand-alone sustainability reporting in 2016. The materiality assessment was conducted in the second half of 2020 using a survey approach and communicated through short interviews and meeting discussions.
The 5 Sustainability Pillars, reaffirmed by the materiality assessment in 2020, supported the overall sustainability direction of Genting Berhad and its unlisted subsidiaries, Genting Energy and Resorts World Las Vegas, with common core values and sustainability principles that transcended across the Genting Group. These Pillars are Maintaining the Integrity of Our Assets; Regulatory Compliance; Corporate Culture, Branding and Reputation; Leadership and Succession Planning; and Community Investments.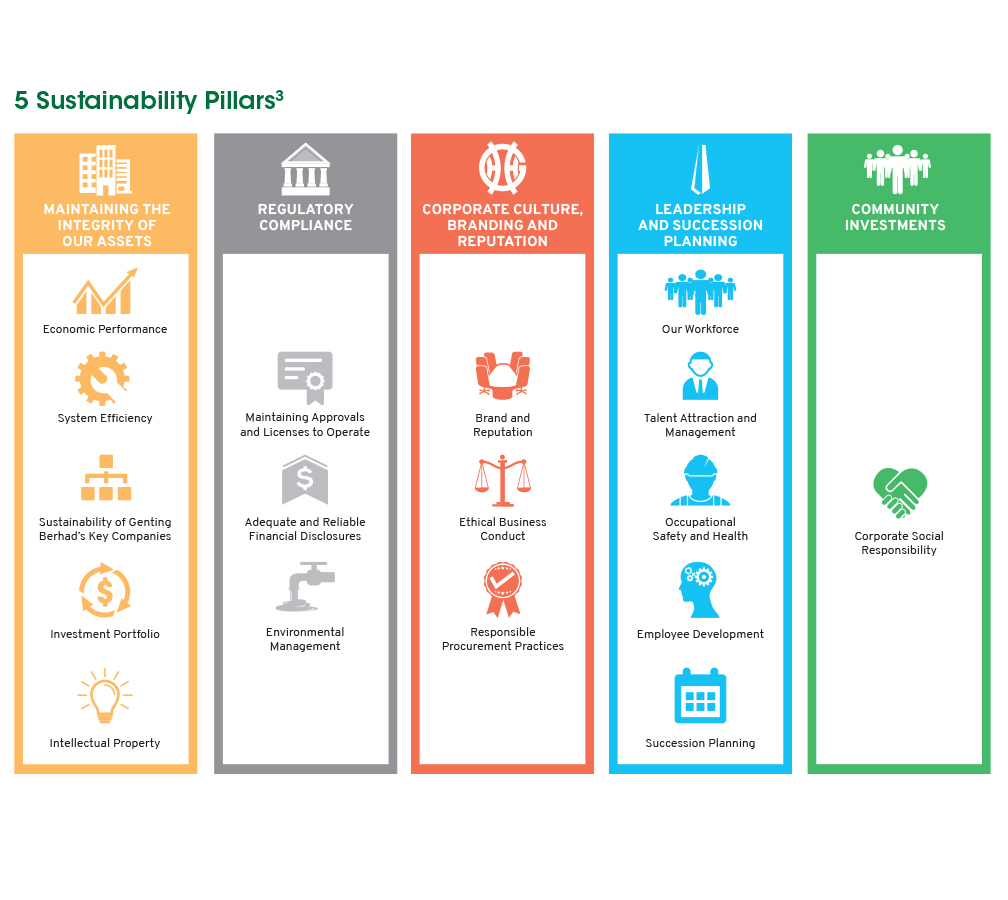 The management approach of our sustainability initiatives are detailed in the stand-alone 2020 Sustainability Report. As part of our digitisation efforts, the 2020 Sustainability Report is available online and can be downloaded here.
Our Board of Directors as represented by the Audit Committee is responsible to oversee the sustainability governance and reporting of the Company and consolidated information of its principal subsidiaries. This Sustainability Statement is made in accordance with a resolution of the Board of Directors dated 25 February 2021.